Audio Visual… Now here's a project for you to get excited about. Just because you are running your business and need a good audio visual setup does not mean you can't enjoy the process as well.
The sophistication of current audio visual technology is inspiring and the technology can be designed around your exact commercial business needs. Nor does it have to break your working budget. From our base in Noosa, we will come to your premises in Noosa, Sunshine Coast or Hinterland, listen carefully to your ideas and requirements, offer advice and source compact solutions for you.
You may be looking for a simple one room audio visual solution or you may require a complete audio visual automated system. How slick is your boardroom? Commercial video solutions from a simple TV installation to large screen projectors or boardroom plasma screens are within your reach.
Maybe you have a corporate audio visual project you're ready to begin and now you need both the professional audio visual equipment and high end workmanship. Talk to us. Tell us what you need and we will put together a professional quote designed specifically for your commercial business.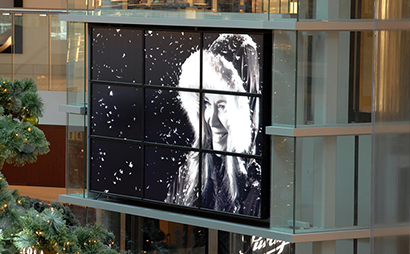 Security for your enterprise is vital: not only for the protection of your stock, customers and business in general, it may also assist with your insurance premiums. You may have an existing CCTV system or security alarm system that requires upgrading. We will assess, install or upgrade power and cables, monitor wall brackets and more. Or we can supply and install a complete security system that benefits your commercial premises. Power points, sockets, cabling, servicing. Switchboards and outlets. We can advise you on exactly what you need to achieve your audio visual media and security system upgrades or installations.
Indoors or outdoors surveillance systems, energy efficient lighting systems, visual and audio displays, video conferencing communication systems. Surround sound, amplifiers, free standing or concealed speakers, wall or ceiling mounted projectors, regular TVs or plasma screens. If it's a fully automated system you require there are many control systems available. Even the best audio visual system will be rendered useless if it cannot be easily controlled by the people that need to use it.
For the installation of professional audio visual equipment in your commercial office or business, we provide professional cabling installation and integrate all services to provide a seamless solution for you, the end user.
Commercial Electrical – Links