With our base in Noosa we are able to actively service the entire Sunshine Coast and surrounds for all your domestic electrical requirements. Building your new home? Let us assist you from the ground up, with wiring, safety switches, switchboards, garden lighting, underground mains or audio visual installations.
Is your home older? Already established? Rewiring with forethought is our speciality. We can and will ensure your wiring is not only out of sight but up to date. Safety is essential so don't be caught out with out of date wiring and electricals. Extra power points, servicing existing wiring, installing smoke detectors; nothing is beyond our capabilities nor our expertise.
Be it a simple TV antenna installation, assisting you with your Foxtel, or a more complex requirement such as swimming pool lighting or jetty and pier lighting, we are not only here for you, we will meet your needs.
You are our resource… connect with us, tell us your requirements and we shall plan your domestic electrical requirements alongside you. Love your LED lighting? Ask us to help you plan both the setup and execution.
Outdoor lighting is important , not only for ambience but also for safety. Perhaps you want to combine your outdoor lighting with the LED factor. Or solar lighting. We thrive on creativity and therefore would love to work with your ideas and arrive at a solution that is both aesthetically and safely pleasing to you.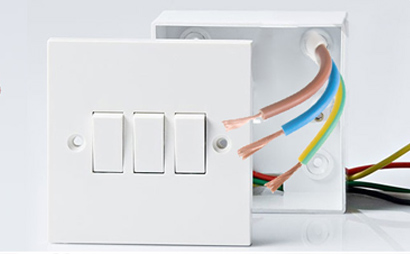 Overhead power can be daunting, but not to us.
Your oven needs replacing… just ask us. It's that simple! That's what we are here for. You require a new telephone outlet – we can and will do that.
Out of town and worried about losing power? Let us advise you on the installation of a generator backup supply.
Domestic Electrical, big or small, is US.
Our areas of expertise include: Domestic Electrical – power points, smoke detectors, outdoor lighting, security lighting, safety switches, switchboards, LED lighting and quotes, Jetty or Pier lighting, swimming pool lighting, TV Antennas and Foxtel.
Domestic Electrical – Links