There is an audio visual revolution going on and we are right at the heart of it. Never has the technology for Audio Visual been so diverse and exciting. It's an open book and now is the time to let your imagination go crazy with us here to guide you along the way. It doesn't matter if you need surround sound wiring for just one room or if you wish to distribute your audio visual throughout your entire home, our technical expertise is at your disposal.
Indoors or outdoors, streaming your music from your smart phone to outdoor speakers is a great way to impress your guests as you're entertaining them in the BBQ area. Mount a beautiful projector screen with surround sound and customised lighting and watch the big games surrounded by lighting and audio atmosphere.
Visual displays for your media room, for advertising or for digital signage. Need a video wall in your corporate office? Tell us exactly what you are wanting to create and we will provide a solution for you. Home automation can effectively fit your requirements. Want to play ambient music in your bedroom, entertain the teenagers on the patio and still watch the news in your lounge room? All this can be controlled by a concealed central system with recessed speakers. We can fit you out with plasma screens, wall or ceiling mounted projectors, regular TVs, the latest in amplifiers, free standing or concealed speakers. Your smart media is limited only by your imagination.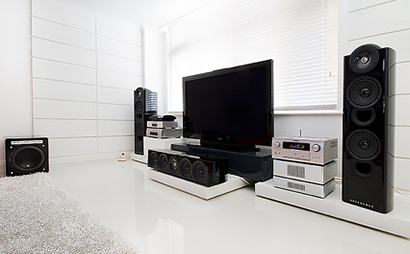 We can automate your system. Allow you to remote control from the Web, give you a Multi room HiFi and Home entertainment system control.
For the installation of professional audio visual equipment in your commercial office or business, we provide professional cabling installation and integrate all services to provide a seamless solution for you, the end user. We offer installation of Video and Date Projectors, plasma or LCD screens, projection screens, vision switchers, cameras, recording and playback, speakers, PS systems, amplifiers, digital distribution, touch panel control and automation, motorised screens, controlled lighting and much more.
We service Noosa, the Sunshine Coast and Hinterland. Call us now and let us provide a solution to your needs and dreams.
Domestic Electrical – Links