Smoke detectors! Every home must have them, for the safety of the occupants, for the safety of the children. These are one safety device you simply do not, cannot afford to be without. The laws are definitive about this as well and if you are living in an older home, or renovating an old style home, it is vital that your smoke alarms conform with legislative requirements. They are a compulsory item and something that we believe should be given close attention.
Choosing a smoke alarm is not as difficult nor as boring as you might think. There are two common types of smoke alarms: ionisation and photoelectric.
Ionisation type smoke alarms work best on flaming fires, whilst photoelectric smoke alarms work best on fires that smoulder for long periods of time. The QLD Fire and Emergency Services recommend that all homes be fitted with photoelectric detectors.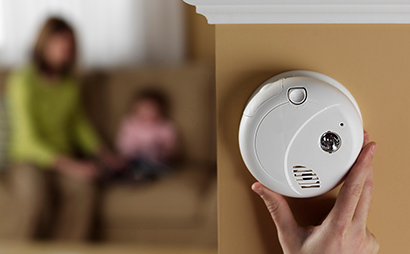 These days, smoke detectors in buildings must be hard wired and interconnected. Older homes must have at least one 9 volt battery operated smoke detector and homes that are renovated can have a 240 volt hard wired smoke alarm. The legal requirements are quite concise and here is where we can help you with what you need. If you are unsure about the type of smoke detectors that are currently installed in your home, or have concerns that they are not compliant nor safe, let us advise you.
Most smoke detectors are placed on ceilings and there are strict requirements for where not to place a smoke alarm. The number of detectors you need will depend on the size of your home. If you like to sleep with your door closed, you must have a smoke detector in your room and we can install for you.
There is a lot to think about regarding the safety of your home, be it old or new. This is when you consult the experts. Call us. We are in Noosa.
Domestic Electrical – Links